NOW AVAILABLE FOR PRE-ORDER || FIRST ROUND ORDERS WILL START SHIPPING JUNE 2023
Orders for AWD turbos are expected to ship 2nd round in July 2023.
---
Z1's VRX70 Turbochargers for the Infiniti Q50 and Q60 are the ultimate upgrade for those seeking more power and performance from their Infiniti.
These turbochargers are designed and engineered with precision to deliver exceptional power gains, excellent response, and a thrilling driving experience. VRX70 turbos are the first of their kind and offer a 100% new turbo assembly, recycling ZERO parts from the frame or cartridge of the original turbo. Because of this, no core charge or return is required, making them the most affordable and practical upgrade available! They feature a high-efficiency billet compressor wheel, advanced turbine blade design, and larger .70 A/R turbine housing, providing a significant increase in airflow and supporting in excess of 700 horsepower on cars with appropriate fuel systems and other modifications. Not only do these turbochargers provide an incredible performance boost, but they are also built to last. The Z1 VRX70 Turbochargers feature high-quality construction with durable materials, ensuring they withstand the toughest driving conditions and continue to perform at their best for years to come.
The Z1 VRX70 Turbochargers are a direct bolt-on upgrade and include all the necessary components, such as new oil and water lines, gaskets, and hardware.
Why larger turbos?
As you read that you probably thought to yourself "I want more power, duh", but what if we told you that's not the only thing you stand to gain from larger turbos?
The stock turbo's on your VR30 are small. We're talking "looks like they belong on a Honda Fit," small. This is great for engine response but means that they don't perform well at higher RPMs, especially as you increase boost with a tune. A Q50 with increased boost pressure will feel very responsive and quick, but when you pass peak power in the power band, they start to feel asthmatic and power starts dropping…fast. This occurs because the stock housings are incapable of flowing enough air to support the demand from the engine. Tuners often continue to increase boost pressure to compensate, however, this creates excessive pressure pre-turbine which in turn increases heat and makes the susceptibility to detonation much higher. At this point, the reason for upgraded turbos becomes obvious: larger turbos flow a greater volume of air with less restriction.
Z1's VRX70 Turbos features a .70 A/R turbine housing, boasting a substantial increase in flow over the stock .53 A/R housings. This means they are more efficient at producing power and require less boost pressure to achieve the same power levels. This also reduces turbine speeds and makes it easier to manage the heat produced by the turbos. More importantly, it helps the engine generate more horsepower towards the peak where sports cars are meant to be driven. To combat boost creep we maximized the available surface area of the wastegate port by designing a unique port shape.
Installation Note: The VRX70 reuses your Q's existing wastegate actuator and speed sensor (on Red Sport applications) and must be configured properly when installed. Please understand this is a critical process, and failure to install and adjust the wastegate actuator properly will result in issues when operating and tuning the car. For this reason, we recommend these turbos be installed by a competent and reputable performance shop.
THE GAINS
The dyno graph below represents what we consider to be a safe limit for 93-octane fuel, making 503whp and 469wtq at only 17PSI!. This was completed on Z1's Q60 with the following power mods:
The dyno graph below shows the upwards potential of the VRX70 with higher octane fuel. This tune was completed on the exact same car with 104-octane race gas and was tuned to the limits of the MAP sensor, making 670whp and 595wtq. To go further, a 4-bar MAP sensor is required…coming soon!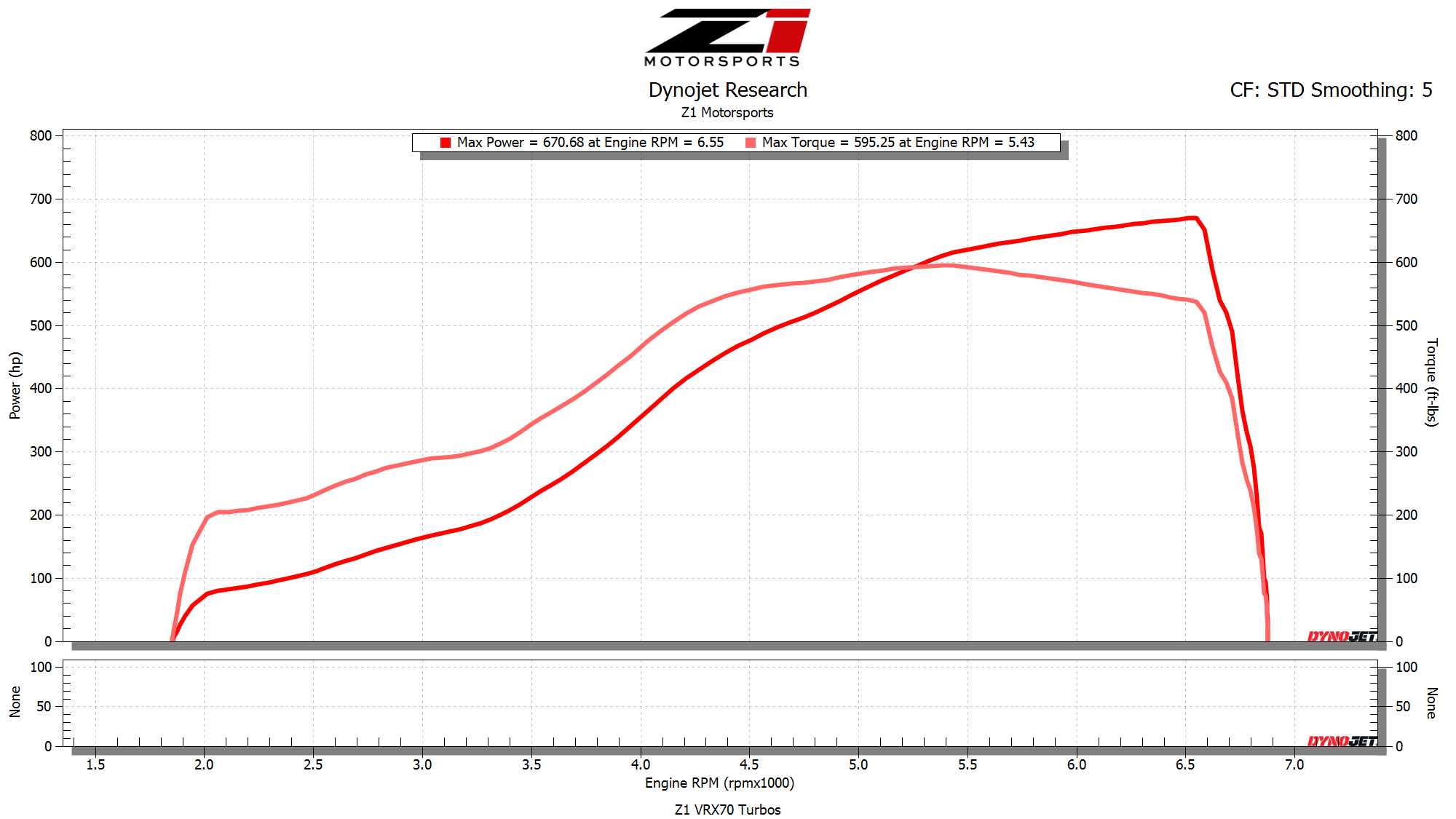 Specifications:
Journal Bearing CHRA

Turbine Housing

.70 A/R (vs .53 A/R Stock)

Material – Industry Leading D5S

Turbine Wheel

Inducer – 53.9mm

Exducer – 47.0mm

Material – Inconel 713C

Compressor Housing

.60 A/R (vs. .52 A/R stock)

Compressor Wheel

Inducer – 49.8mm

Exducer – 67.6mm

Material – Billet 7075 Aluminum
Features:
No core required

Track tested

VSR balanced rotating assembly

Custom billet compressor wheel

Custom turbine wheel

Reuses factory wastegate actuator

Direct bolt-on replacement for factory turbos

Compatible with factory cats and any aftermarket cats that use stock flange placement

Capable of supporting beyond 700+hp with proper fueling and supporting mods.
Fits:
2016+ Infiniti Q50 Sedan || 3.0t

2017+ Infiniti Q60 Coupe || 3.0t